All products are made with NATURAL ingredients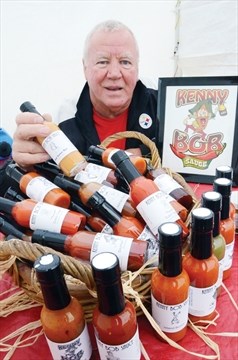 About Us


Kenny Bob Sauces
are designer hot sauces created over 35 years ago. The two styles of sauces,
Southern Style and Island Style,
were originally made for Joe Mamas Bar and Grill (
317 King St. W. Toronto)
and Nawlins Restaurants (
299
King St. W
Toronto
)
.





Philosophy
Our philosophy is simple. At
Kenny Bob Sauces,
our goal has always been to provide a top quality product that is healthy, natural, gluten free, non allergenic, great tasting, and all reasonably priced for the "hot sauce lovers" who want to add a little spice to their foods.
All the sauces are made to be used with fine foods. The heat-delayed reaction is created so you can taste the unique flavour of the sauces without impairing the tastes of your meats, salads, vegetables, rice or even desserts.
Customer Reviews:
Hello Kenny Bob,
News Paper Feature- see web page- just click
http://www.yorkregion.com/news/article/1521053--former-stouffville-cop-likes-it-hot
Just wanted to let you know that I recently tried your Kenny Bob Sauce with wraps and burgers and enjoyed it a lot. I have a couple of friends (one from Stouffville) that bought the hot sauce last summer at the Strawberry Festival and I just tried it the last couple of days. This email is just to let you know that I enjoyed the sauce. Keep up the good work!
Have a good one,
Peter
Hi,
I purchased some of your marvelous sauce earlier this summer at the Stouffville Down Town Farmer's Market I took your sauce up to the cottage and had a few requests for bottles of the 'hottest sauce' ever to appear at happy hour. I was wondering if you could let me know where I could purchase some more for my friends at the lake and my family too. Thanks Michelle
Posted on Facebook: by Steven R
"Be sure to try Kenny Bob's Green Garlic sauce. It's amazing"
My wife and love your hot sauces and have been raving about them to our friends. I usually get your sauce from the East Guillumbury Market . I have some guests from out of town that were hoping to get some sauce before they leave on Tuesday.
Carey
The Beefway
beefway@bmts.com
We are now carrying Kenny Bob Sauce. Please drop by our store.
Our butchers are the best, they make the best cuts, we have all your meat needs. We also have a full supply of great products to enhance your next meal.
http://www.explorethebruce.com/butcher-shops/The-Beefway-12393.php
Kincardine, Ontario
N2Z 2X4
Jeff; Hello,
We met last week at the fair and my father in law and I bought 3 different hot sauces and d=some hot mustard from you. And now after trying them. Bob's Garden is by far the finest hot sauce I've ever tasted and the ditto for the hot mustard. I'd love to be able to purchase more as soon as possible. Not only for my own use but for gifts as well. Please let me know how I can meet up with you to get more of the hot sauce and mustard.
Ph and take a bow, your sauces are outstanding.
Lindsay ; Hi My husband just loves your hot sauce Dutch Treat. I didn't see it on your site is it still available? and if so how would I be able to get some more?
Laura; Stouffville ;;Message: Hi! Wondering if we can buy hot sauce from you here in Stouffville. Thanks!! Jan 21

Brian : Hi Kenny, The products were excellent, thanks again. I would like to place an order for a number of items including a couple more cases of the green garlic. Jan 21
Justin; Stouffville :

Can I get a caddie Kings Bounty hot sauce please?
15 Olive's Gate, Stouffville, Ontario L4A 0E5 | 416 669 8361